Editor's Note: I'm really sorry, but I just don't have time to figure out why the pictures didn't upload the way they were supposed to, so to see them, click on them! Enjoy!
Holy frick!
Yesterday was my very first marathon! The Seattle Rock 'N' Roll Marathon. However, this race reports requires a little background information, so here goes:
Monday on my way home from my rotation in Minnesota, I was checking my email to find out that Smelta/Northworst had changed my flight and I was now going to arrive around 10:00 at night on Friday. This is after the Expo is over and therefore I would not be able to pick up my packet. All over my information and the website it says that you must pick your packet up in person with a photo ID, no exceptions. I freaked. I ended up calling the race headquarters Tuesday and they told me I'd be able to pick it up at the starting line. Phew! Crisis averted. The rest of the week consisted of running a million errands (I was just coming home from being away for 6 weeks on rotation out of state). Thursday night, I went out to eat spaghetti and drink some beers with a couple friends. Friday is when the trouble began.
With my new flight schedule, I was supposed to fly out of Omaha at 5:20, land in Salt Lake, wait 2 hours and fly to Seattle arriving around 10:00 local time. When I got to Omaha, everything was fine until everyone started getting confused about where we were supposed to board the plane. The flight that was supposed to leave ahead of us to Detroit out of our gate was grounded due to bad weather out east. No one knew where we were supposed to go since their plane was still at our gate. I mean NO ONE. Not a single Delta or Northwest person could tell us what the heck was up. Needless to say we boarded a puddle jumper an hour later through a different gate. We arrived in Salt Lake just ahead of a massive storm. The landing sucked and they wouldn't let us off the plane when we got there because it was storming so bad. They did, however, unload all of our bags onto the tarmac in the rain, which was special because everything I brought got wet. Did I mention that my carry on was too big for this plane so it had to be checked and so all my running stuff, my paperwork, and everything got wet also? I had a drying party by myself in the SLC airport later. Anyhoo, the storm grounded all flights forEVER!! and my flight to Seattle was delayed two more hours. I landed in Seattle at 1:00AM local time (3AM my time) after 10 hours of travel (4 hours in the air). Oh yeah, and I had to get a taxi to my hotel since the shuttles stop running after 11 and then get up in 2 hours! Blech.
RACE!
So Jaclyn woke me up at about 3:45 and we got ready quick and walked over to the hotel where she had Team breakfast. We hung around there for about an hour and then walked over to another hotel where we hopped on the school bus for the ride to Tukwila to the starting line. We got there and I hurried up to get my number and chip. We got that settled and headed over to get coffee.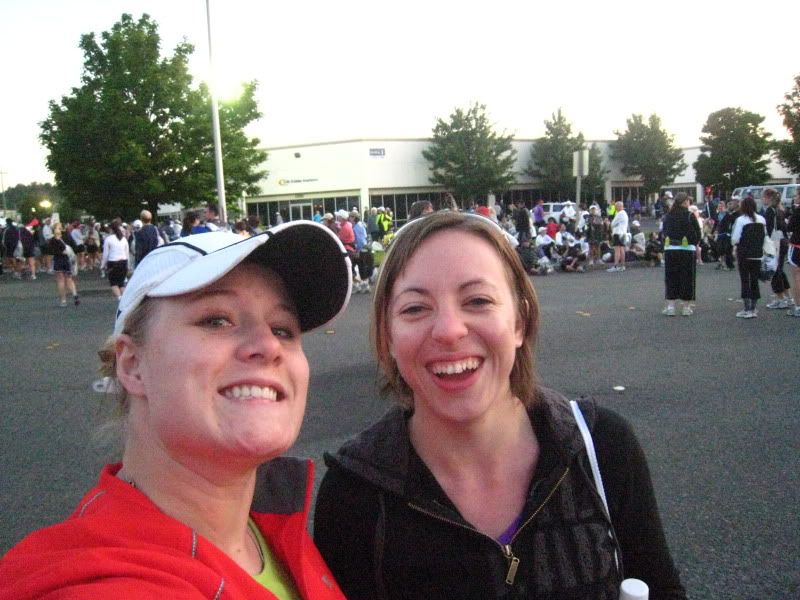 We were meeting some friends,
Mike
and Todd, at 6 but actually ran into them over at the Starbucks. The four of us dinked around for the rest of the time doing the normal stand in the potty line forever, go, and get back in the potty line b/c you'll have to go again by the time you get back to the front. At a 6:45 we headed to our corrals. Todd was in 2 (demon fast!), I was in 21, Mike was in 24 and Jaclyn was in 29. Jaclyn joined me in my corral since we were planning on running together.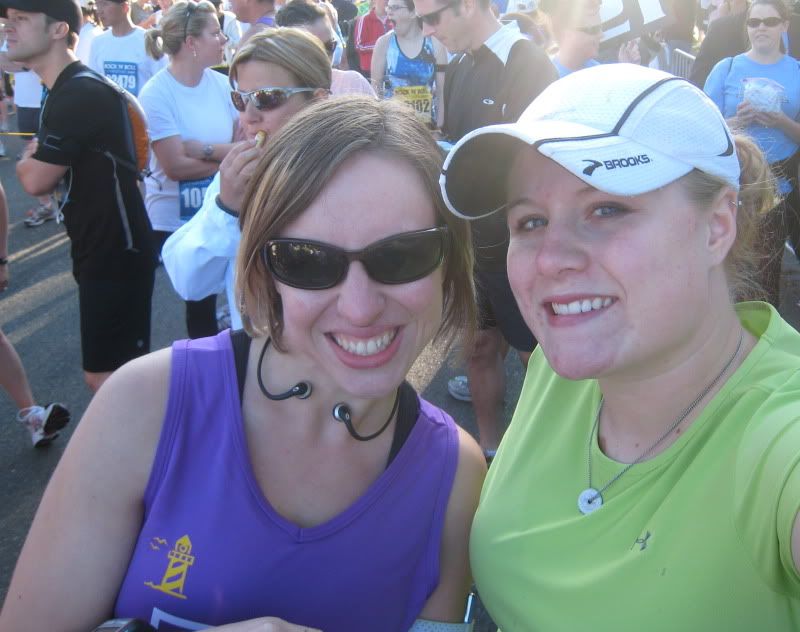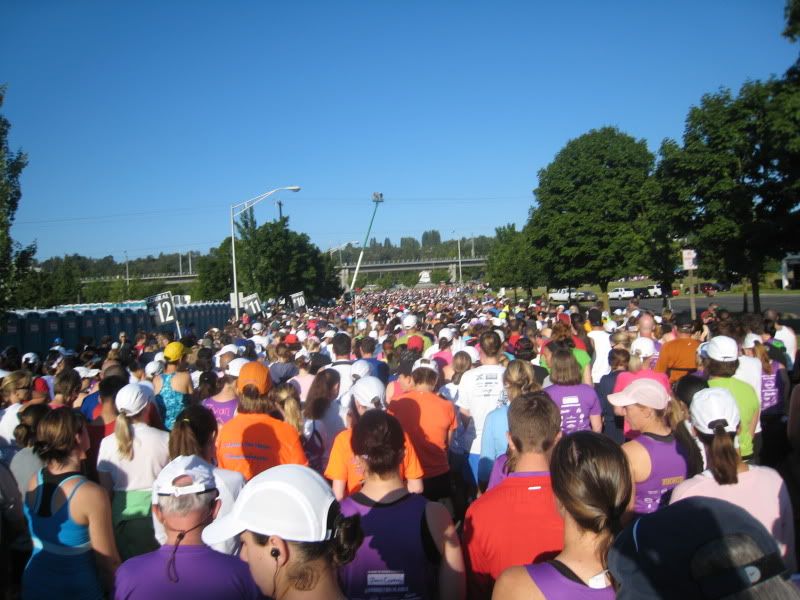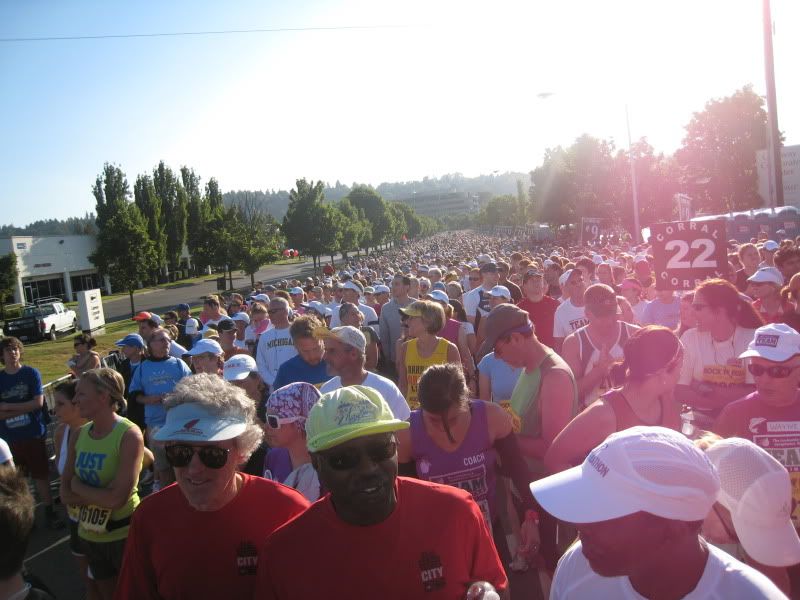 25,000 runners participated in the race and it was awesome! 45 minutes after the starting gun, our corral was released and we were off! It was amazing!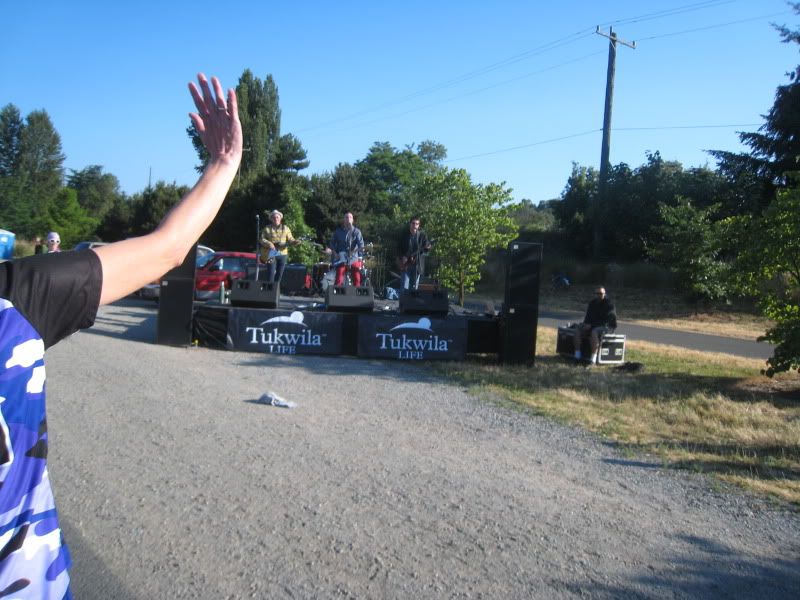 There were bands all along the way and it was so exciting. About 3 miles in, my garmin decided it wasn't going to find a signal, even though there wasn't a single tree overhead, so I lost all my distance data. I just used it for time. Jaclyn is a first time runner so we ran/walked 4/1 min ratios per her plan. I was there for moral support and to get the experience of my first marathon with no chance of overdoing it.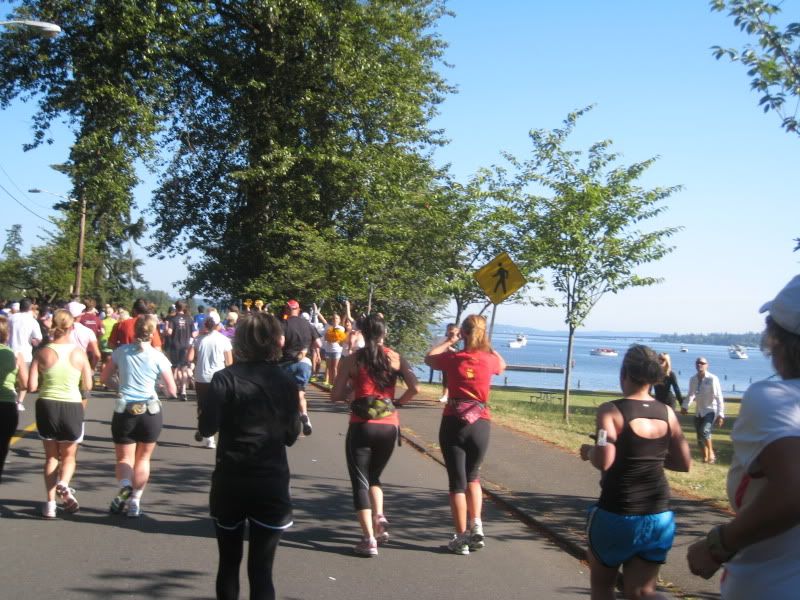 About mile 4 we hit the shore of Lake Washington and I got a major calf cramp in my left leg. I wasn't going to let it get me so I ignored it and didn't say anything to Jaclyn. We finished our run segment and walked our minute and when we started running again, it wasn't there. When she had to stop to use the potty, I stretched it out good and it didn't bother me the rest of the race. Ha! Take that mind! I win!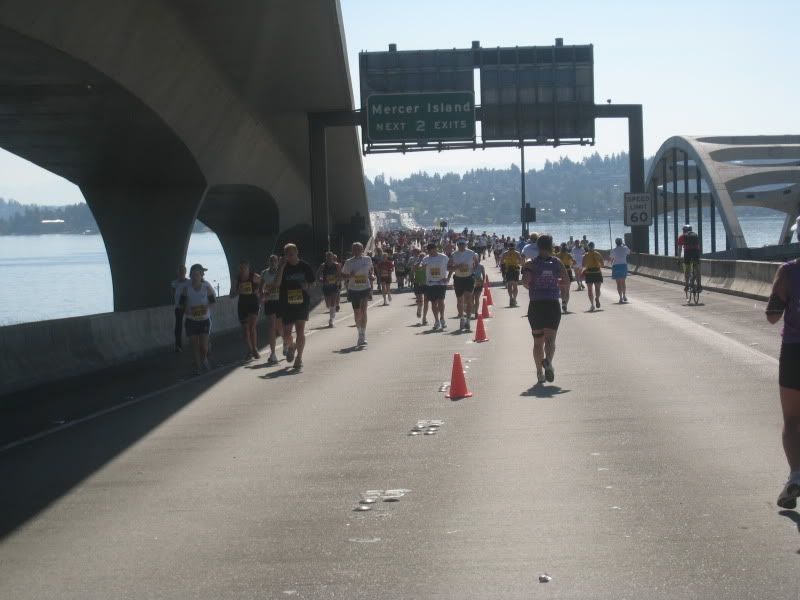 Miles 9, 10 and part of 11 were on the Lake Washington Bridge and were rough. There weren't many fans, only music at the turnaround and it was HOT. There was a good breeze off Lake Washington to keep it from getting too bad, but there wasn't any shade, so it was rough. It was beautiful though!
There's a mountain (Mt. Ranier) you can barely see just to the left of my head. You can see it if you squint really hard.
We then wound back through Seattle to pass the finish line for the first time and head north, leaving the half marathoners behind (lucky bastards). We were feeling pretty good at our half marathon point, so we danced a little. We continued along the Alaskan Way Viaduct running by Puget Sound for a half a mile or so. The breeze off the Sound was amazing. Then we went straight north where Jaclyn hit THE WALL. We had our Mars bar from Mike to look forward to at mile 17, which was just one mile away, but it was hard. I did my best to keep the 4/1 up, jogging really slow next to her when she needed to walk and trying to give her as much encouragement as I could muster. We made it to 17 and slammed that Mars bar. It was the most amazing thing I have ever eaten. I really wish they made them here.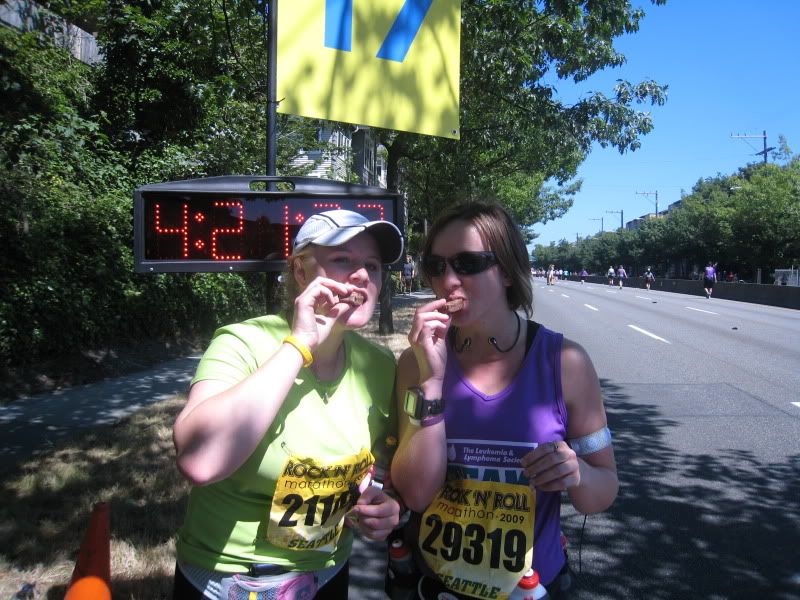 My feet were getting pretty sore, but overall I still felt pretty good. When we made the turn back at 18.5ish, I got a little emotional. The cheerleaders were saying this is it! Home stretch! And I was thinking, really?! Awesome! We're almost there! We weren't, but it was still pretty cool. We ran along Lake Union back towards downtown.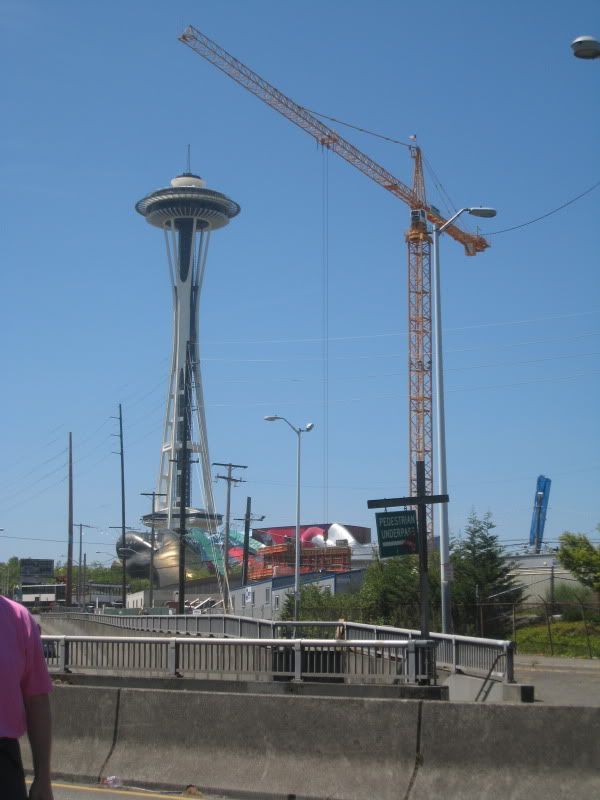 Here she is in all her glory at mile 21. Just past here we got on the Alaskan Way Viaduct again where we saw Jaclyn's Dad and friends again (we saw them a few times along the course) and continued to plow through it. We stayed on the Viaduct for most of the rest of the race. About mile 22 I hit the wall. It was 99.9% mental, as they say, but I forced myself to keep moving. I would run ahead and then walk a bit to let Jaclyn catch up. She had gotten to the point where she was not going to run anymore. She told me her ankles hurt so bad when she was running. I told her to try to walk fast and see how it felt so that is what she ultimately did. She power walked and I jogged along side her for the last 3 miles of the race. At mile 23 we ran by the finish line for the second time. We made the turn and headed for the finish.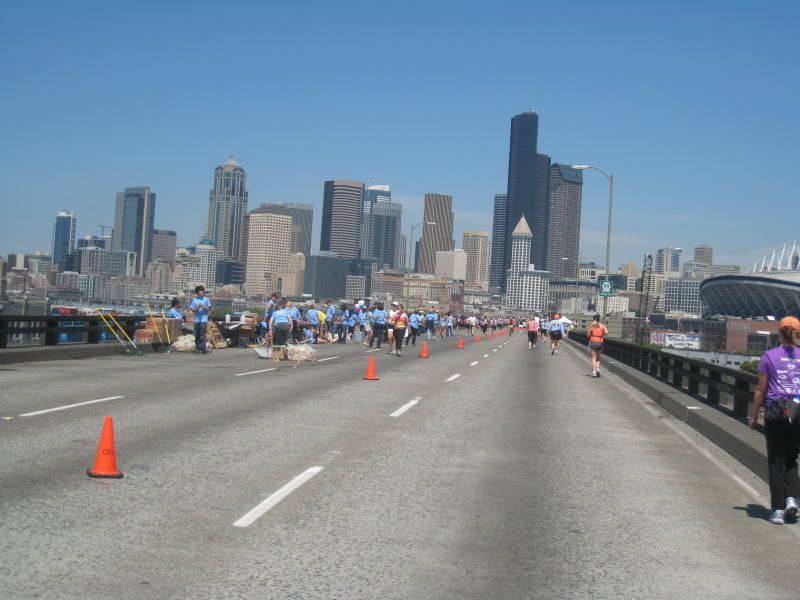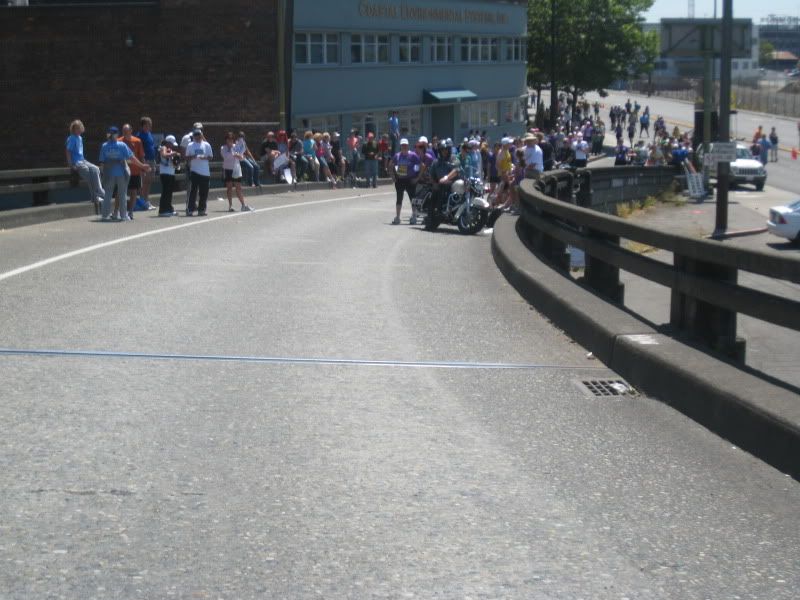 This is where the tears really started to flow. Just before mile 26 marker, we turned and headed down an off ramp. Jaclyn started running again and we turned and ran past the finish line for the third time through scads of volunteers and people cheering us on. Couldn't stop crying.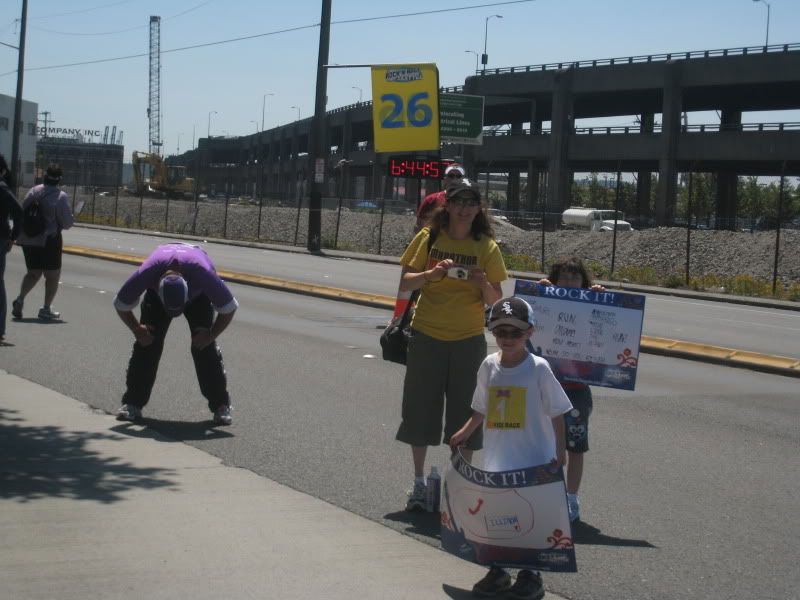 We went through them, took a sharp left and another into the extremely long shoot. I kept thinking where the heck is the finish!? It was a long straightaway and then a turn to the right and we crossed the line together hands in the air. We both had to dig deep there at the end, but we freaking did it. Once we crossed the line, we hugged and cried and couldn't believe it was over. Our official chip time was 6:14:29. We started together and finished together. Although we weren't together every second, we crossed every timing chip point together miraculously. It was the most amazing experience one could have ever had.
The weather was beautiful, the people were awesome, and I will definitely do this one again!